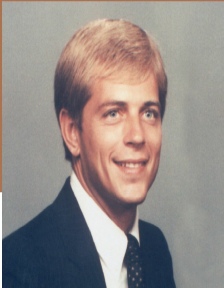 Paul Douglas Ice - Senior Special Agent
U.S. Customs Service
Senior Special Agent Paul Ice, a native Oklahoman, was one of the first U.S. Customs agents assigned to the Oklahoma City office in the Alfred P. Murrah Federal Building in 1988. At 9:02 a.m. on Wednesday, April 19, 1995, Agent Ice, 42, was standing at the desk of investigative assistant Patricia Salyers in the Customs office on the fifth floor when a truck bomb exploded in front of the building killing Agent Ice. Salyer's desk fell three floors into the area that once had been the day care center. Although she sustained serious injuries, she survived.
Special Agent Paul Ice was survived by his two daughters, Miranda 15, and Sarah 19 and is buried in Fairview Cemetery, Apache, Caddo County, Oklahoma.
OLEM – 2N-3-15 NLEOM – 30W20
March 2, 2021

Lawrence Morgan Inman - Officer
Tulsa Police Department
Lawrence Inman was born February 2, 1894, in Salem, Dent County, Missouri to William H. and Sarah Ellen (Johns) Inman.
Officer Lawrence Inman, 53, had been a Tulsa Police Officer for seven years on Wednesday, January 15, 1947. On that date Officer Lawrence Inman was responding to a reported armed robbery when his patrol car was involved in a traffic accident with another vehicle on East 11th Street. Officer Inman was severely injured in the accident and died from his injuries two months later Thursday, March 13th.
Officer Lawrence Inman was survived by his wife Delphia, and adult children, Paul, 28, and Irene, 25. Lawrence Inman is buried in Memorial Park Cemetery, Tulsa, Tulsa County, Oklahoma.
OLEM – 7N-3-7 NLEOM – 29W1
March 13, 2022
.
Oklahoma Highway Patrol
Just before midnight on Wednesday, December 20, 1972, State Trooper Thomas Isbell, and his partner Trooper Robert Foltz were investigating a traffic accident five miles west of El Reno on I-40. The scene was surrounded by the state troopers' cruiser with emergency lights on, burning flares and traffic cones. As Trooper Thomas Isbell, 26, was measuring skid marks in the roadway, when a car driven by Elyse Ann Madison, 21, from Des Moines, Iowa, struck him and carried him one hundred and twenty-eight feet. Trooper Thomas Isbell was thrown to the pavement when the car skidded to a stop. Trooper Thomas Isbell was dead on arrival just after midnight the morning of Thursday, December 21st at Park View Hospital in El Reno.
State Trooper Thomas Isbell was survived by his parents and is buried in Waukomis Cemetery, Waukomis, Garfield County, Oklahoma.
OLEM – 1N-2-23 NLEOM – 28W17
March 2, 2021